Last Saturday I end up on the terrace of beer bar the Flying Dutchman in Middelburg. This café has a wide choice of beer (about 300!) and on the terrace is lovely to enjoy the view over the Dam square and the tasty beers!
300 beers to choose from
After the opening in 2012 is the Flying Dutchman has been transformed into a beer bar with no less than 300 different beers on the map, of which 16 are on tap. The beer lover has so sure enough to choose and try. Fan of Kalay? This beer bar is the first case in Middelburg with Kalay Pils (from Grolsch) as House brewery. I chose a Kriek Max on tap and still the very best: I got there a game of nuts. Which I find really cute (and tasty) if I do a drink somewhere. Top!
Special beers
In addition to sweet ladies beers can be found in this beer bar also very special beers. So travels the owner Koen Funk once in a while to Westvleteren Abbey beer in a crate to load. I was told that this beer certainly the 11 euro per bottle is worth. "Soft" were the exact words of my drinking company if I'm not mistaken.
Soon a private beer
Koen incidentally that he told Funk also gets its own beer. In collaboration with a Celebrity (who is now still a big secret), he has a beer develops as no other beer. And he should know because he has a lot of beers tasted as real beer connoisseur. With its own beer would he like to "live again". Because that's what he should be: a beer experience. How the beer tastes you should see, but I can tell you already that Koen there are many special things in it. "All for the flavor."
Why a beer bar?
Before he began the beer bar, was the Brabant Koen already about 15 years active in the hospitality industry in Middelburg. When I asked him why he's a beer bar has opened, was his answer: "why not?" And indeed why not. He has a great passion for beer. Not only drinking beer, but also discovering, selling, advising and developing. He knows every beer on the map through and through. You know so not exactly what beer you have to choose? Question than simply agree or he has something for you know and be surprised.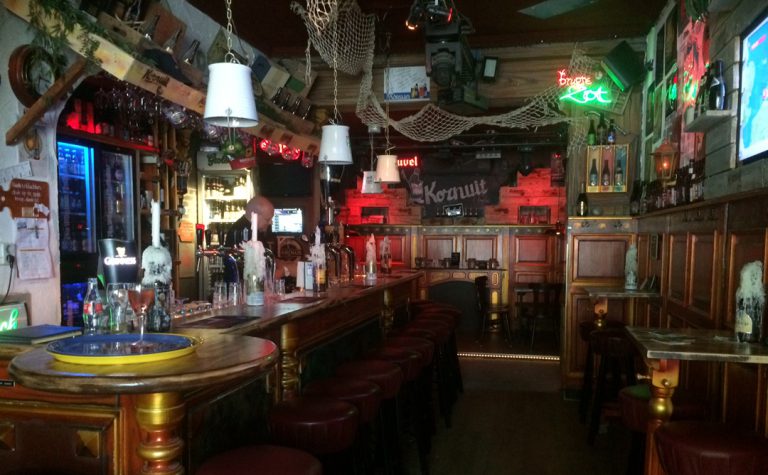 Just a glimpse in the beer bar
Well, enough chatter. It's time to see what happens here. Compared to outside (weather is sunny) is a lot darker. A lot of wood and it just looks like a cozy piratenhut. Aye aye captain. The beer barrels fit in there also good at Kalay and the name of the home Brewer suddenly gets an extra layer. It feels like a cozy Pub. And what do I see now? They have also a serving grasshoppers!
Hmm … What beer would fit?
---
Also enjoy one of the hundreds of beers? Beer bar the Flying Dutchman is open from Thursday to Sunday and in the summer holidays more often.
Address:
Dam square 48
4331 GD Middelburg
Contact:
06-31633237
cafedevliegendehollander@gmail.com

Online:
Website
Facebook
Twitter
The beer bar is also nice for shorts or a beer tasting.